Each metal art sculpture is very labor intense and unique. Because of the intricate designs within each piece no two pieces are exactly alike. This makes your piece a special treasure that you and your friends will appreciate for years to come.
History of Haitian Metal Art
This particular art form was born in Haiti in the early 1950's by a simple blacksmith, Georges Liautaud. In his small shop, he made and repaired tools and created primitive metal crosses, for the graves in the Croix-des-Bouquets cemetery. It was at the encouragement of an American teacher, DeWitt Peters, who in 1944 opened the Le Centre d'Art in Port-au-Prince that Georges Liautaud expanded into the creation of decorative metal sculptures. A few talented men apprenticed under him, and this tradition has continued. A particular metal artist will have assistants, who, as they mature in the art, will branch out and begin expressing themselves with their own designs.
Thank you for reading this brief story on Haitian Steel Drum Art
We hope that we have sparked your interest in this metal art form and that you will take your time looking through the selection of Haitian drum art that we have presented.
Below are photos showing part of the process of burning, flattening and cutting the steel drums.
See additional photos of the process of making Haitian steel drum metal art
To prepare the steel drums, the tops and bottoms are cut off and the drum is cut from top to bottom. It is then stuffed with dried banana leaves and set on fire. This burns off paint and residue, thus, cleaning the drum.





After the drum has cooled, it is then flattened by very stong pushing.

Continually working the drum to completely flatten the drum.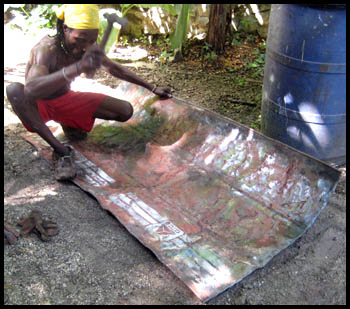 The hammering begins. With much work, the drum is hammered into a perfectly flat surface.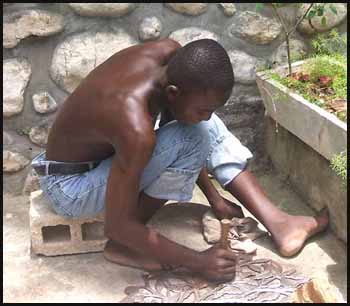 The design is put on to the metal drum surface and using a hammer and chisel, the design is cut.



After the design is cut, the metal artist goes over the entire piece with a steel brush to clean and smooth the metal art.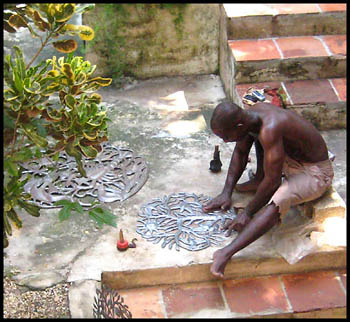 A finish of a rust preventive solution is applied to the design and the final Haitian metal art piece is polished to perfection.
Proud artist shows off his talent.
See additional photos of the process of making Haitian steel drum metal art