In Haiti, wonderful decorative metal wall sculptures are created from flattened drums which were originally used to transport oil or other industrial products. After removing the tops and bottom and slitting down the sides, the drums are flattened and then carved by hand into highly decorative works of art. Using only hammers, chisels and other simple tools, the artists creates elaborate, decorative designs out of the flattened steel drum. Haitian drum art is recognized throughout the world and is gaining in popularity. It makes a striking decorative piece of wall art for inside the house or outdoors on the patio. Pin It
The making of Haitian Metal Art - Below are photos showing you the process of taking a recycled steel drum and transforming it into an outstanding metal art piece for your home. Pictures show some of our very talented Haitian metal artists, here in Port au Prince, Haiti. Enjoy !!!


The process for creating the artwork found on our Haiti Metal Art website all begins with recycled 55 gallon steel drums, as can be seen in the above photos.
We purchase these used drums from local Port au Prince, Haiti companies, who have brought in to the country, various materials for the operation of there businesses.
The first thing that is done, it to take the top and bottom off of the steel drum.
This is done with a hammer and chisel, by one of our Haitian workers.
The tops and bottoms are placed inside of the drum, along with dried palm branches or other dry material, and set on fire.
This burns off the inside residue and the outside paint, bring the surface down to a clean steel surface.
After the steel drum has cooled, from the burning process, it is split down one side, from top to bottom.
With protective gloves, a very stong Haitian man works with the rounded cylinder, to flatten it out.
With a hammer, he smooths out all of the ridges of the steel drum, making it in to a workable "canvas".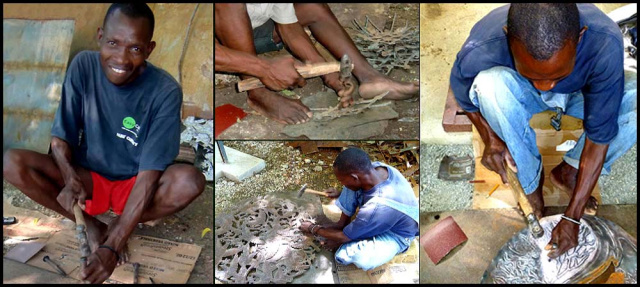 The pattern for the metal design is drawn on to the flattened steel drum.
It is then cut out using a hammer and chisel, as seen above. When working with the metal,
the metal artists like to work without shoes, as they use their foot to manuever the metal piece around, leaving both of his hands free to work with his tools.
After the basic design is cut, the tiny, hammered details are added to the surface of the design,
giving it the detailed finish that our customers expect of Haiti Metal Art.

See more pictures of the making of our Haitian Metal Art - Page 2