Decorative Sun Metal Art, Sun & Moon Metal Art Designs - Metal Wall Decor, Haitian Metal Art - Recycled Steel Drum Art, Metal Art of Haiti - Sun Wall Hanging
Handcrafted Metal Sun Designs - Metal Wall Art - Haitian steel drum wall hangings - Garden decor - Sun design metal wall decor
Decorative metal sun wall art. Haitian steel drum metal art. A popular theme in handcrafted Haitian metal art is the sun design wall sculpture. Haiti Metal Art offers a wide variety of extremely attractive sun metal wall hangings.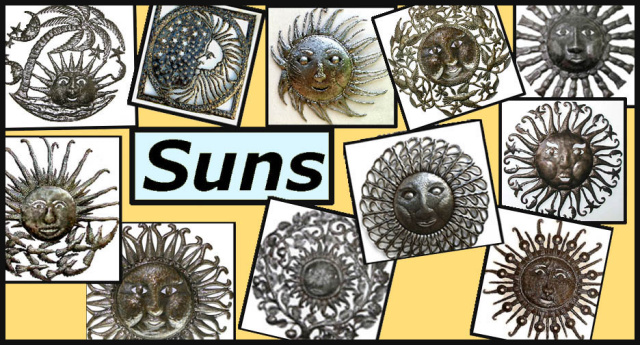 Why settle for a mass produced decorative accent piece, that can be picked up at any large store, for your home decor? Instead, choose a handcrafted design that has been made one at a time. Each stroke of the hammer and chisel given to the flattened steel drum makes each celestial design a special piece of art work. You will appreciate the fine detail work of our very talented Haitian steel drum metal artists. Pin It
~~~~~~~~~~~~
Click below on a sun design photo for more info, a larger picture or to place your order.
Photos from previous customers
The making of Haitian metal art
Click to see photos of turning steel drums into unique Haitian wall art
Haitian steel drum sun wall decor design are hand cut from recycled steel oil drums by talented Haitian steel drum artists. The metal wall art is recognized through out the world as a special form of Haitian art. Celestial designs of steel drum art wall sculptures add a special flavor to your home decor.
What customers are saying:
The sun just arrived safely and it is so beautiful! Thank you! And thanks especially to the artist who made this sun shine so wonderfully! Many thanks, AL
I received the 34" Haitian Sun metal hanging yesterday via Fed Ex and it is amazing! I ordered it for my husband's birthday and he was thrilled! We're looking at your web site in hopes of purchasing another one in the near future. Thank you again for this remarkable piece of handiwork! BG
We received our sun, and are thrilled beyond words! We hung it over our fireplace immediately, and it's absolutely the crowning touch. The craftsmanship and artistry are superb. Thank you, thank you!!! SD